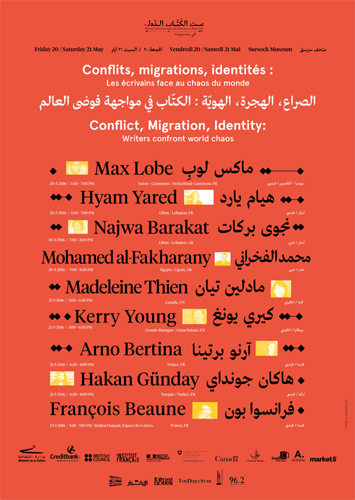 Conflict, Migration, Identity:
Writers confront world chaos
For the third year, the International Writers' House in Beirut is addressing the realities of our world from the fresh, unique, and unfettered perspective of authors. Literature has always been the place where becoming human is explored, and today is no exception. This century's fiction – across borders and languages – observes, describes, and probes what is at the heart of the concerns of peoples and societies. Themes include civil conflicts, the migration they cause, and the complexity of identity in an open but reluctant world that resists connection and assimilation. Novelists from France, Canada, Turkey, Great Britain, Switzerland, Egypt, and Lebanon will discuss these issues amongst themselves and with the public. Selected texts will also be read by actors. The authors' writings embrace a geography that spans the globe from Cambodia and China to Jamaica and North America, through the Middle East, Europe, and Africa.
Additionally, for the second consecutive year, the International Writers' House will welcome a writer in residence in Beirut. Following Pierre Parlant last year, the novelist François Beaune will reside in the Lebanese capital, from May 23rd to July 3rd, 2016, as part of his "True Tales of the Mediterranean" project.